Medicare & Medicare Supplements
How Original Medicare works
Original Medicare is coverage managed by the federal government. Generally, there's a cost for each service. Here are the general rules for how it works:
Can I get my health care from any doctor, other health care provider, or hospital?
In most cases, yes. You can go to any doctor, health care provider, hospital, or facility that is enrolled in Medicare and accepting new Medicare patients.
Are prescriptions covered in Original Medicare?
With a few exceptions, most prescriptions aren't covered in Original Medicare. You can add drug coverage by joining a Medicare Drug Plan (Part D).
Do I need to choose a primary care doctor?
No, in Original Medicare you don't need to choose a primary care doctor.
Do I have to get a referral to see a specialist?
In most cases, no.
Should I get a supplemental policy?
You may already have employer or union coverage that may pay costs that Original Medicare doesn't. If not, you may want to buy a Medicare Supplement Insurance (Medigap) policy.
What else do I need to know about Original Medicare?
You generally pay a set amount for your health care ( deductible ) before Medicare pays its share. Then, Medicare pays its share, and you pay your share ( coinsurance / copayment ) for covered services and supplies. There's no yearly limit for what you pay out-of-pocket.
You usually pay a monthly premium for Part B.
You generally don't need to file Medicare claims. The law requires providers and suppliers to file your claims for the covered services and supplies you get. Providers include doctors, hospitals, skilled nursing facilities, and home health agencies.
Factors that affect Original Medicare out-of-pocket costs
Whether you have Part A and/or Part B. Most people have both.
Whether your doctor, other health care provider, or supplier accepts assignment.
The type of health care you need and how often you need it.
Whether you choose to get services or supplies Medicare doesn't cover. If you do, you pay all the costs unless you have other insurance that covers it.
Whether you have other health insurance that works with Medicare.
Whether you have Medicaid or get state help paying your Medicare costs.
Whether you have a Medicare Supplement Insurance (Medigap) policy.
Whether you and your doctor or other health care provider sign a private contract.
What is Part A (Hospital Insurance)?
Part A covers inpatient hospital stays, care in a skilled nursing facility, hospice care, and some home health care.
What is Part B (Medical Insurance)?
Part B covers certain doctors' services, outpatient care, medical supplies, and preventive services.
Medigap (Medicare Supplement Health Insurance)
A Medigap policy is health insurance sold by private insurance companies to fill the "gaps" in Original Medicare Plan coverage. Medigap policies help pay some of the health care costs that the Original Medicare Plan doesn't cover. If you are in the Original Medicare Plan and have a Medigap policy, then Medicare and your Medigap policy will each pay its share of covered health care costs.
Generally, when you buy a Medigap policy you must have Medicare Part A and Part B. You will have to pay the monthly Medicare Part B premium. In addition, you will have to pay a premium to the Medigap insurance company. As long as you pay your premium, your Medigap policy is guaranteed renewable. This means it is automatically renewed each year. Your coverage will continue year after year as long as you pay your premium. In some states, insurance companies may refuse to renew a Medigap policy bought before 1992.
Insurance companies can only sell you a "standardized" Medigap policy. Medigap policies must follow Federal and state laws. These laws protect you. The front of a Medigap policy must clearly identify it as "Medicare Supplement Insurance."
It's important to compare Medigap policies, because costs can vary. The standardized Medigap policies that insurance companies offer must provide the same benefits. Generally, the only difference between Medigap policies sold by different insurance companies is the cost and customer service provided by the insurance company.
You and your spouse must buy separate Medigap policies. Your Medigap policy won't cover any health care costs for your spouse. However, many insurance companies offer household discounts when both spouses purchase coverage.
Some Medigap policies also cover other extra benefits that aren't covered by Medicare.
You are guaranteed the right to buy a Medigap policy under certain circumstances.
For more information on Medigap policies, you may call 1-800-633-4227 and ask for a free copy of the publication "Choosing a Medigap Policy: A Guide to Health Insurance for People With Medicare." You may also call your State Health Insurance Assistance Program (SHIP) and your State Insurance Department. Phone numbers for these Departments and Programs in each State can be found in that publication.
Medigap Coverage Chart
The Medigap plans are Federally-standardized. All companies must follow the Medigap coverage chart below. In other words, a Plan F with one company is the same as a Plan F with another company. And, a Plan G is a Plan G, no matter what insurance company you use to provide the coverage.
Because of the plan standardization, it is very easy to compare plans in a straight-forward way. Although the benefits are standardized, premiums are definitely not. In fact, you will find that premiums for the exact same plan vary as much as 30-50% depending on which insurance company you choose. It is important to choose a plan that meets your needs based primarily on price.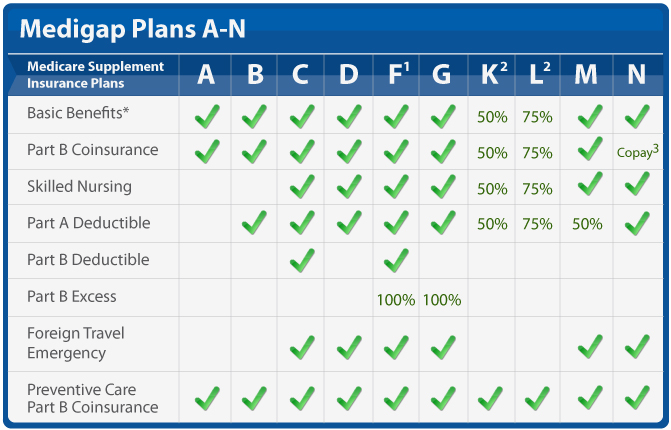 1) Plan F also offers a "high deductible" option. For 2021, that deductible is $2,370. You must pay that much out of pocket before the plan pays anything. This is not a popular option with companies or consumers, but there are companies that do offer it and premiums are lower than most other plans.
2) Plans K and L have an annual out of pocket limit. For 2021, those amounts are $6220 (K) and $3110 (L). Once you meet that amount, in addition to meeting your Medicare Part B deductible ($203/year for 2021), the plan pays 100% of covered services for the rest of the calendar year.
3) Plan N has a co-pay structure for doctor and ER visits. You must pay an "up to $20" co-pay per doctor visit on this plan and a $50 emergency room co-pay.
Why is the Medigap Coverage Chart Important?
The Medigap coverage chart shows you exactly what a Medigap plan will cover, regardless of which company you use to obtain the coverage. This allows you to pick a coverage level that you are comfortable with, then compare multiple companies that offer that specific plan.
All companies do not offer all plans. On the contrary, most companies only offer 3-4 of the plans. The plans that are most commonly offered are Plan F, Plan G and Plan N. This does not necessarily mean that those are the best choices for you; however, between those three plans, they have over 80% of the market share for Medigap plans.
Does the Medigap Coverage Chart Change Over Time?
The Medigap coverage chart does change over time. However, this does not happen frequently. The last time the plans were "reshuffled" was 2010. At that time, Plans H and J were eliminated and two new plans – Plan M and Plan N – were added.
The next change in the Medigap coverage chart occurred for plans effective on and after 1/1/2020. During this change, Plan F (and Plan C) were eliminated as an option for new enrollees.
It is important to note that, in 2020 when Plan F was eliminated as an option, people that were already on that plan were "grandfathered in" and able to keep that plan. This is also true of any other changes to the Medigap plans. Any time the chart changes it does not affect people who already have those plans, as Medigap plans are "guaranteed renewable" and coverage does not change over time.
What Companies Go by This Chart?
Any company that wants to offer Medigap plans is required to offer the standardized plans. In other words, if you are going to sell a plan to supplement Medicare, your plan design must meet the coverage set forth in one of these standardized plans.
There are a few unique exceptions to this, but those are state-specific, not company-specific. Read more below.
Are There Exceptions to This Chart?
The exceptions to the requirement of standardized Medigap plans are state-specific. There are a few states in which the plans do not go by the above Medigap coverage chart. These states are: Massachusetts, Minnesota and Wisconsin.
Comparing Medigap plans in these states can be a little more cumbersome and difficult, since most of the information is tailored around the ten standardized Medigap plans that other states use. However, even in those states, the plans are still standardized (they just use a different chart showing what plans cover). You can see more information about two of those states here: Minnesota Medigap plans / Wisconsin Medigap plans.
Alternatives to Medicare (aka Part C)
Medicare Advantage Plans are another way to get your Medicare Part A and Part B coverage. Medicare Advantage Plans, sometimes called "Part C" or "MA Plans," are offered by Medicare-approved private companies that must follow rules set by Medicare. Most Medicare Advantage Plans include drug coverage (Part D). In most cases, you'll need to use health care providers who participate in the plan's network. These plans set a limit on what you'll have to pay out-of-pocket each year for covered services. Some plans offer non-emergency coverage out of network, but typically at a higher cost. Remember, you must use the card from your Medicare Advantage Plan to get your Medicare-covered services. Keep your red, white, and blue Medicare card in a safe place because you'll need it if you ever switch back to Original Medicare. Below are the most common types of Medicare Advantage Plans.
Now that you know what each plan covers, compare options to determine which plan and price is best for you in your situation.
Note: Unlike medigap (medicare supplement) policies, advantage plans are not the same from each insurance company. Each company may offer a variety of plans with different provisions and premiums. Each insurance company has their own provider networks. The fees charged by non-network providers may be substantially higher than in-network providers. It is possible to be hospitalized in a network hospital and then receive care from individual physicians who are not in network. Unfortunately, you cannot tell by looking at their white coats whether they are in or out of network. Annual out of pockets maximums usually refer to in network care. Check to see your potential liability when receiving care out of network.
After enrolling in an advantage plan, you have the option at certain times to return to original medicare. This does not include automatic acceptance into a medicare supplement. You may have to go through underwriting and may be declined for acceptance into a medicare supplement. If accepted for coverage, your premium will be based on attained age and underwriting classification at time of enrollment.
Changing to or enrolling in a medicare advantage plan has significant long term implications. Carefully consider the reasons for your choice and the potential disadvantages to you in the future as you age.
Currently medicare supplement Plans F & G include the most comprehensive coverage available for those on medicare. Many carriers don't offer plan F. With plan G your annual total out of pocket for covered services will be the medicare part B deductible plus the premiums for coverage. Additionally, prescription drug coverage is not included in medicare supplements. Part D (prescription drug coverage is available in a separate policy, at additional cost, available from many carriers. Carefully consider those combined costs with the potential costs for any other plan. Don't get caught up in the advertised hype about free services and money back in your social security check. There isn't much in life that is free! You are going to pay sooner or later, in one way or another.
Certain types of services are generally not covered by medicare. These include experimental treatments and many elective procedures. Additionally, certain physicians or caregivers choose not to participate in the medicare system. These often include plastic surgeons, psychiatrists and alternative medical providers. Check with each provider you are considering to see if they accept medicare and if your procedure is covered.
Premiums for Medigap policies vary by age, gender and from company to company and from state to state. Click here to compare Medigap (Medicare Supplement) quotes from financially stable insurance companies based on your zipcode.